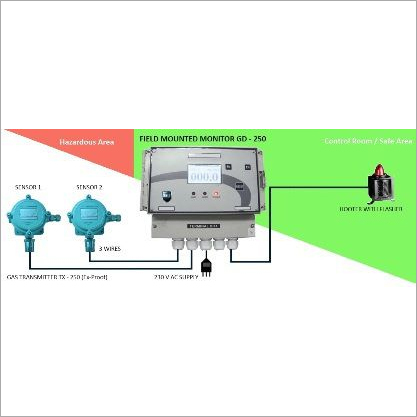 Digital Gas Monitor
Price And Quantity
Product Specifications
Weather or Explosion Proof

230 V AC , 50 hz
+/-2% of FS mm

Digital Only
Product Description
Digital Gas Monitor


These multipurpose monitors are the most essential parts of your safety system, which come with simple functional procedures and offer high performance with reduced cost. The low maintenance rugged NEMA 4X or 7X assembly is appropriate for many commercial, industrial and general purpose usages so as to detect flammable, combustible, toxic gases and oxygen depletion. The Model GD 250 are the single channel digital control components, which are particularly designed to monitor and exhibit the condition of a single intrinsic or remote sensor construction. Model GD 250 is built in a NEMA 4X wall mount artifact or Ex-proof inclosure. Model GD 250 Single Channel controllers get connected with two or three wire 4-20 mA sensor, voltage / current sensor and transmitters of industry standards and offer the two autonomous adjustable alarm levels as well as concentration display to the user. Integrated 3"1/2 Alphanumeric LCD display is capable to show the concentration. LEDs on the front body give hint of all three alarm system. The alarm feeds can be programmed to work either as an ascending alarm or failing alarm. These feeds can also be latching or non-latching. Offered relays are SPDT Form C type and are operated at 5 Amps. so as to offer optimal alarm action and obviate the requirement of interjecting passages.

Local Alarm devices are configurable on board alarms and can be easily attached on them. The fail safe supervisory proffers a dependable indication about the absolute operation of Monitor. The Fail Safe design controls the input power as well as the condition of the power demand for the amplifiers. The breakdown of any single part of these may have an impact on Fault Light Emitting Diode. Sensor is the crux of any Analytical system and it the most vital component that influences the overall system performance. As no single sensor technology is suitable for all applications, we offer ten assorted sensor technologies. This capacity is essentially demanded in the complex industrial market. The direction of each of these technologies permit us to fit the product to its comely usage and ensure a long term service and reliability. Additionally, we also ensure the optimal performance of the products in all applications.


Exceptional Features of Digital Gas Monitor-
Fast as well as accurate response.
Specific Gas Sensor of long life
Solid State Electronics
Proper Monitoring
Two Alarm Levels.
Fail Safe Protection
Recorder Output
Remote or Integral mounting Sensor.
Un-attended Procedure
Sample distribution via diffusion or sample draw pump.
Adaptability to run into your application demands.
Connected with Industry Standard Transmitters.
H2, CL2, BR2, F2, HCI, HF, HCN, CO, CO2, NO, NO2, SO2, H2S, NH3, O2, LPG / CNG,
HYDROCARBONS, ORGANIC SOLVENTS / VAPOURS.
Specification:
Minimum Resolution : 0.1 or 1 unit of the range.
Indication : Digital Continuous
Mounting : Wall
Sensor Technology : Appropriate to Application
Detection Method : Diffusion / Sample Draw Pump
Accuracy : +2%
Linearity : +2%
Relative Humidity : 0 - 99% Non-condensing
Response Time : (90% in 10 seconds)
Signal Output for Recorder : 0 - IV, 4-20 mA (Optional)
Alarm Setting : High and Very High Adjustable over full range
Alarm Circuits : SPDT 5 AMP 220V Contacts
Controls : Zero, Span, Alarm Setting
Power Source : 110V or 220V 50 Hz. 24 VD C (Optional)
Dimensions : 250 X 200 X 100mm
Trade Information
All India

IP 65 Weather Proof for Non Hazrdous Area IP 65 Flame/Explosion Proof for Hazardous Area