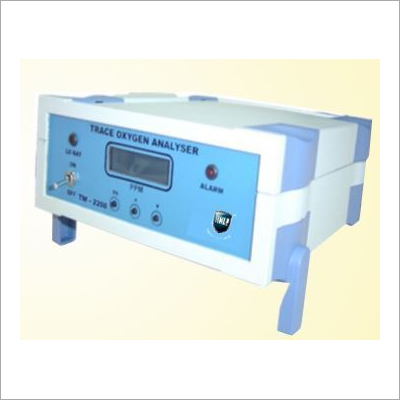 Trace Oxygen Analyzer
Price And Quantity
Product Specifications
Product Description
Trace Oxygen Analyzer
is a consolidated analyzer based on microprocessor, which proffers versatility, accuracy and simple operations. It is designed for simplifying the task of tracing oxygen analysis and boosts the work speed and efficiency. Basically, it is a user-friendly product, which comes with advanced accuracy, speedy response, auto diagnostics, two adaptable alarms and a sensor failure alarm system. Reducing the perturbation and workload of the end-user's hands, it comes with two programmable safe concentration alarms included with one high and one low set-point. Additionally, it proffers the versatility to its operational fluency so as to conform to almost all requirements. It includes an alpha- numeric digital meter for simple viewing and readout quality. It employs a micro-fuel cell, which is maintenance-free and highly reliable microprocessor supported with modern electronic design. The analyzer guarantees an outstanding performance, wherein power is supplied via rechargeable NiCad batteries and is also integrated with pump. The high accuracy and fast response of these units is perfect for measuring oxygen in argon, helium, butadiene, carbon dioxide, hydrogen, nitrogen, acetylene, ethylene and different other gases.
INSTA - Recovery, Long Life Maintenance Free Oxygen Sensor
Historically, the recovery period is an essential factor when it comes to changing, air calibrating or tracing of Micro-fuel Cells ranging from 6 to 12 hours. The included sensors execute the recovering that is below 10 PPM oxygen. The sensor installation is user-friendly and assures of superior optimal performance that work in few minutes. Fundamentally, these Micro-fuel Cells are the chemical devices, which come with zero electrolyte so as to modify the production and ensure less maintenance. Specific to oxygen, it is capable of monitoring gas streams, immaculately. This is a self powered, diffusion limited metal-air battery sensor, which is not powered via sample flow-rate, or by decreasing the amount of gases such as carbon monoxide, hydrogen and hydrocarbons.
Ambient Air Calibration provides freedom from support gases
The analyzer can be dependably and accurately calibrated on atmospheric air. What is more beneficial here is that it does need certified gases for calibration process and provides the user a well-defined benefit in economic terms.
CONVENIENT OUTPUTS FOR DATA
Diagnostics Comprehensive self testing function
Ranges Trace : 0-10, 0-100, 0-1000, 0-10,000, 0-25% ppm
Indication Alpha numeric Digital LCD Continuous
Principle of Detection Self Powered Diffusion Limited sealed Electrochemical Sensor
Relative Humidity 0-99% RH Non-condensing
Position Sensitivity None
Housing Hi Impact Plastic
Power 6 Volts Rechargeable batteries.
Recommended Sample 0.1 to 10 Litre / Min
Accuracy ±2% of full scale (±1 ppm for 0-10 ppm range) at a constant temperature
Operating temperature 0 to 50 deg.C
Relative Humidity 0-99% RH Non-condensing
Position Sensitivity None
Response time 90% in 5 to 10 seconds
90% in 60 seconds
(0-10 ppm range)
Reproducibility ±1% at constant temperature
Sample inlet/outlet Quick connects (1/8 or 1/4)
Digital Interface. RS-232
Alarm Setting Hi & Very High Adjustable over full range
Approvals Standard: Intrinsically safe (Class I, Division 1, Groups A, B, C and D)
Intrinsically safe for zone1 and 2; hydrogen, ethylene
Weight 1.25 kg
Dimension 175X 200X65 mm
Trade Information
Telegraphic Transfer (T/T)

10-15 Per Week